Earl Campbell's Sausage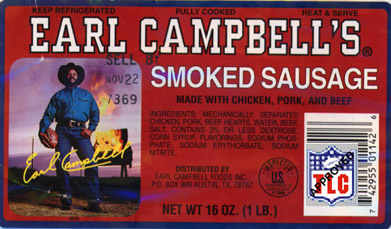 With a name like Earl Campbell it's got to be good! Perhaps the most thoroughly tested product throughout the season, Earl Campbell has never failed to satisfy. Twenty years after his retirement, Earl continues to take out the big guys, this time with his fat, juicy jalapeno and smoked sausages. He spares no mercy and packs his sausage with meat and keeps on packing in all the good stuff. The first bite into one pounds one with a full broadside of flava juices with the power not seen since the Bismark raged havoc across the Atlantic Ocean. Take the immortal words that I once heard from TLC member Hannibal Barca,"Just think of the best sausage you ever had. And try to imagine it ten times better. And then above that . . it's made by Earl Campbell!"
Approved.
last updated 02/26/2005
---
---
A message from this web site creator
Dear fans of Earl Campbell,
I created this page in the summer of 1998 to show the world my love for Earl Campbell and his fine meat products. It also serves as an homage to all that Earl Campbell has given to us by being a true Texas role model and hero. To be frank, I am really just a fan just like you. I do not know Earl personally.
I am amazed to see how many of you have come to this site to express your joy for Earl's wide assortment of smoked sausages. Thousands of people have visited this unofficial fanpage since its inception. Earl Campbell sausage does indeed have a cult following. People cannot get enough of it. This is a not for profit web site. I just want to spread the word about the best sausage known to mankind.
Sincerely,
Big Dave
Unofficial Earl Campbell sausage fan page
---
Please send any Campbell related comments to me, Big Dave, at davidestrada@austin.rr.com
This site was created July 18, 1998. 







Dave's homepage