Where does a towboater most happy after a long hitch on the boat? New Orleans' Bourbon Street! Here is a picture of me in June of 98 shot from the live Internet camera, BourboCam. I had just completed a week and a half long trip down the Ohio and Mississippi Rivers were I started from West Virginia. Going to Bourbon Street after a this long run was just too sweeeet. I called my buddy on the telephone back at home so he could check me out on this live shot of Bourbon Street. He saved the image and here it is.
New Orleans is the hub for rivermen. Men would float wooden barges all the way down the River to this city before the steam engine was even invented. Since there was no power to propel these barges back upriver, these barges were torn apart for their wood. Legend has it that much of this wood was used to build the city of New Orleans in its infancy.
New Orleans is called the Crescent City because the Mississippi River makes a sharp bend around it. The city is like a peninsula to the River. The deepest part of the entire Mississippi River is just across the river from the French Quarter at a place called Algier's Point. New Orleans is below sea level and surrounded by levees to prevent flooding. When you are on a towboat cruising by, you actually look down onto the city streets. It's pretty bizarre. New Orleans has been home away from home for rivermen for centuries. Some things will never change.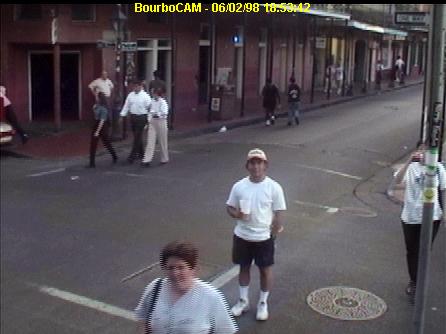 Update Summer 2005: I originally wrote this in 1998. We've all seen the effects to the low lying city that I described with the arrival of Hurricane Katrina.