Barge Work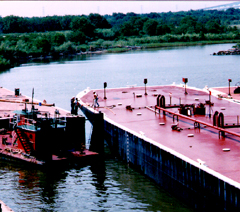 We are docking the barges at Sabine Towing's fleet back in the summer of 95 in my days as a deckhand onboard the Poseidon. It is at mile marker 289 on the Intracostal Waterway meaning that this point on the canal is 289 navigable miles away from were the ICW meets the Mississippi River at Algiers Lock, near New Orleans. These photos were conveniently taken by Sabine Operations Manager, Jim Guidry, as he was onboard the ship Guadalupe.
We had two empty barges doubled up and had to tie them up so we could break out the boat to get supplies. A barge fleet consists of multiple barges tied up to each other with at least one barge tied up to the shore. Captain Jerry Casagrand is piloting the tow. Catching the first line is very critical in order to stabilize and stop a moving barge. Usually you don't have the luxury of having people standing on the dock or barge when you need to tie up to, but when the help is there - you take it. Click on the image for a close up of us catching that first line.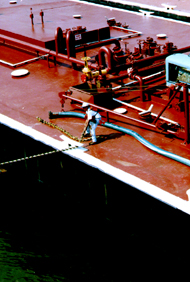 At this point we have the bow of the barge tied off. Right now I am tying off the stern with a backing lead that prevents the barge from moving backwards. Click on the image for a close up of my pulling up all the slack I could out of the line.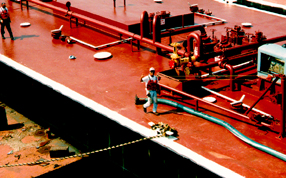 Mission Accomplished! The barge has multiple lines to keep it from floating away. Now it's back to the boat to release it form the barges and head to shore to pick up our goodies and call the family from a payphone. Click on the image for a close up of me heading back to the boat with my classic gesture.
I really enjoyed working on the M/V Poseidon. I was the lowest guy of the totem pole. Helping out are tankermen, John Vickery and Ralph Cryer. We made a good work team that hitch. After getting my tankerman's license months later and going to the Zephyr, I ran into these guys again swapping barges on the ICW in Louisiana. They wanted me to go back because we got along so well. I miss these men.
Update 1/23/99
I ran into my old Poseidon buddy, John Vickery, during the holidays this year. I went to a honky tonk bar in Beaumont, TX and low and behold John was the bouncer. He told me that his days on the River were over and was content staying on dry land with his girlfriend. I have a feeling that he will go back. When I decided to go back to school, a friend of mine at Sabine told me, "You'll be back. It's in your blood and you will never get rid of it." He was right.