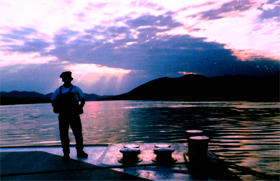 Welcome. My name is David Estrada. I am glad that you decided to come visit and learn a little more about me and my life on the River.
I started working on towboats and barges in the winter of 1995. I worked on them full time through the summer of 96. The money I earned helped me attend college. During my entire college years I worked on the boats during my summer, winter, and spring breaks to help finance my education. I started out at deckhand, then tankerman, then finally became a mate. I enjoyed the work because of the experience of living on the river for months for at a time. It was a unique way of experiencing America. I earned my college degree and 'retired' from the boats on June 9th, 2000.
I miss it dearly
I grew up in Port Arthur, Texas a port town near Louisiana that the Intracostal Waterway passes through. As a child I would always go to the seawall and wave to the passing men on towboats and barges. It was a joy when some of these rivermen would wave back to me. I never would have known that when I grew up that I would be one of these rivermen passing by. One of the most gratifying things from working on the river was waving back to kids on the bank as we floated on by.
Another wondrous thing about working on the boats were the people. I met many captains, pilots, deckcrew, and mates who have made a positive, profound and lasting impact on my life. Some of these people you'll be introduced to in my river pages. Working and living with these people made them like brothers to me. It was always a complete thrill to cross paths with these men on the river and talk about old times.
Although I have turned to a new chapter in my life, the Mississippi River often calls back for me. It now lives in my pictures, my stories, my memories. Please kick back and enjoy your ride down the river with me. - David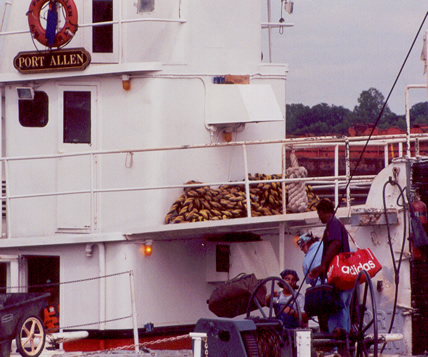 This is me throwing my bag on the dock after my last hitch on the river ever 6/9/2000.
My good friend captured this moment on film.