I've crossed paths with steamboats all up and down the Mississippi like the mighty American Queen shown behind me. As the steamboat passed with many of its passengers on deck, I put one work glove on and did a dance with a mop in hand to entertain them. They really enjoyed it. They were so far away that all I could see were the white smiles across their faces. Whenever a steamboat passed our tow, it was like a few minutes of paradise riding by. A reminder that made you forget about the hard work and being in the middle of nowhere. I would always have dreams of someday riding on one.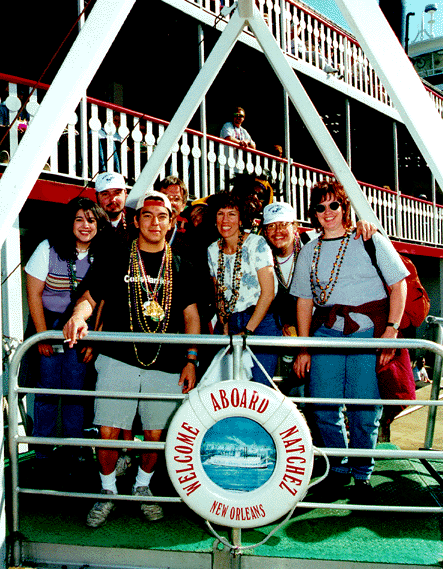 I finally got to ride onboard a steamboat, the Natchez, with some of my best friends on our trip to Mardi Gras 98. To top it off - it was my birthday! We took a cool two hour cruise up and down the river with jazz music, a Cajun buffet, and plenty of drinks for everyone. It felt wonderful to be on the other side looking at towboats as we cruised through the harbor of New Orleans.
I must say, that was the best birthday that I ever had.