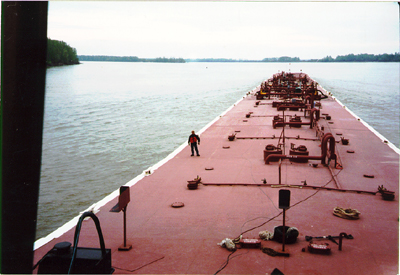 This is a pic of me cruising upstream while working on the Thor. It was shot around the winter of 95. We had a steady run on this boat between Baton Rouge, LA and Vicksburg, MS. Going downriver usually took us around 18 hours depending on the strength of the current. Going back up to Vicksburg took roughly a day and a half. In this photo we are pushing three loaded barges that are strung out end to end. The pilot of the Thor, Red Jones, took this picture from the wheelhouse of the boat. This is the vantage point of what a river pilot sees as he is steering a tow on the river.
I used to work a little overtime chipping and painting the boat and the captain would give me extra shore leave time in Vicksburg. He said I could go on one condition. If I went to one of the riverboat casinos, I would have to split my winnings with him. I quickly responded, "Does that also mean that I get to split my losings with you?" He just laughed.
To get downtown from the docks I used to hitch a ride. Vicksburg is a beautiful city that has unique Southern charm. I used to explore the downtown shops and a century old courthouse on the top of a tall hill overlooking the river. And yes I did stop by a casino and ended up losing - which I never brought up to the cap.